WE HAVE THE TENT FOR THE JOB
With over 20 years in the event industry Pangroove Elegant Events knows tents and can supply a wide range of tent sizes and accessories for your event. From tent sidewalls and liners, to curtains and coloured and white lighting and chandiliers, let our team advise on the right tent to met your requirements. Our solid reputation is built on expertise, honesty, and impeccable service. With a keen eye for details Pangroove Elegant Events is known for doing superior work in a timely and efficient manner. Our commitment to our customers is absolute, as we place their needs and peace of mind at the center of what we do.
Contact us today to make a booking for your event.
246 435 9264 or office@pangroove.com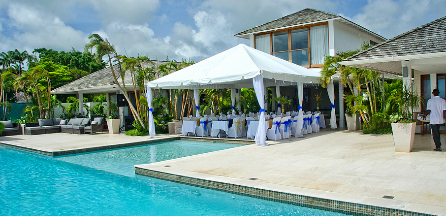 YOUR ONE STOP SHOP FOR YOUR EVENTS
We know that if you are renting a tent that you probably have other needs for your event. Not just basic rentals but a comprehensive range of services are available from Decor to Lighting both inside and outside of the tent, Tables and Chairs, Linen & Flatware, Cocktail Tables and Lounge furniture and more. Tell us the nature of the event and we are happy to advise on available options to bring your event to life without shredding your budget.
With Pangroove Elegant Events, you can bank on getting the most professional service and the best results for your event. Our expert staff are sure to exceed your expectations, doing far more than other traditional tent rental shops. Tents are available in sizes from 10x10 to 30x110 and options include side walls, liner, leggings and lighting.